Ka Pai Creative Forest!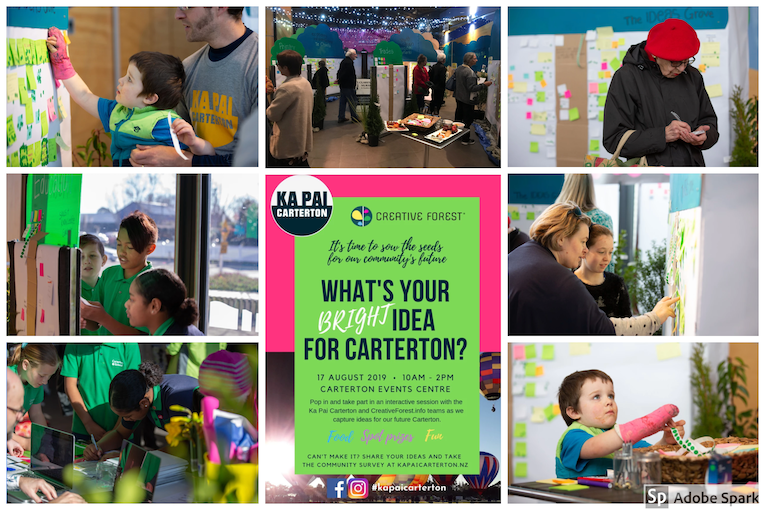 Event Feature Photos by Lucia Zanmonti
Whether you are a corporate team, student innovator or community group, Creative Forest provides a unique, experiential methodology that inspires Communities to dream big and get cool projects organised and delivered. Creative Forest recently teamed up with Ka Pai Carterton, supported by the New Zealand government Department of Internal Affairs, to run a community consultation process for the people of Carterton.
Carterton district, in central Wairarapa, is home to over 9,300 inhabitants, more than half of whom reside within the township. The area hosts numerous community groups reflecting a diverse range of interests from the residents who predominantly comprise farmers, younger families and retired folk. So the event was a wonderful opportunity to explore a wide canvas of viewpoints about what the community thinks is working, what needs improving and what new things would enhance the town and region.
Ka Pai Carterton is now preparing a plan to foster the community led development of projects and services that will increase connectedness and resilience across the district. This was a chance for community members to gather support for their brilliant ideas, uncover skills that lay hidden around town and receive practical help getting going, using the Creative Forest framework.
Civic artworks? River clean-up? Walking tracks? Weta hotel? Food trucks? VR Centre? Who knows where this might lead in future?
Community Engagement is something we are passionate about. We had so much positive feedback after this event. Please get in touch if you'd like to find out more.